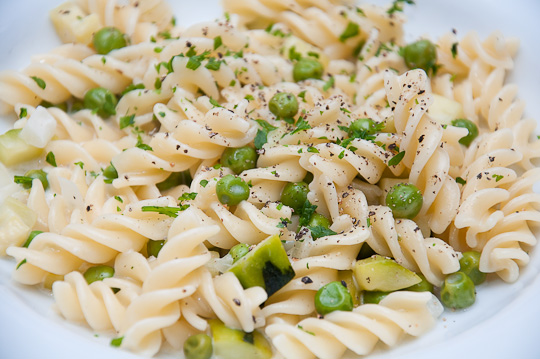 there is nothing in the fridge except an aging zucchini, half an onion and a bit of leftover heavy cream? oh, and in the freezer are still some peas. dinner is saved:
Ingredients:

1 tbsp sun flower oil
half an onion (or more)
one zucchini
150g  frozen green peas
100ml vegetable stock
100 ml heavy cream
2 tbsp fresh lemon juice
salt,  freshly ground black pepper
200g pasta of your choice
sauté the diced onion in a pan with sun flower oil, add diced zucchini and cook for a few minutes. add peas, stir a few times, then add vegetable stock. let it simmer until the peas are done. add heavy cream and let it simmer again for 2-3 minutes. season with lemon juice, salt and black pepper. meanwhile cook the pasta, strain and mix with the sauce.  quick and easy and quite good.