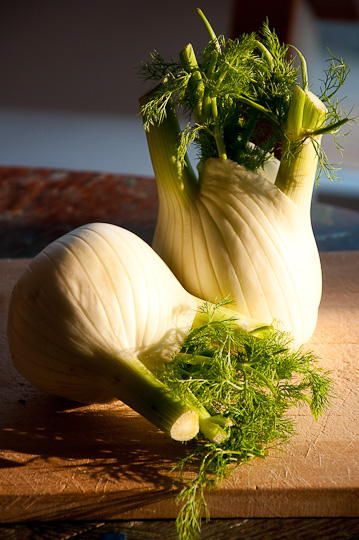 i don't like fennel. this is a fact i never questioned, although i could not tell a single occasion where i ever tasted fennel so far (that is, as a vegetable). it must be a late effect from the fennel tea i was forced to drink as a kid. but i also used to hate eggplant – up until i ate parmigiana di melanzane. so why not try to overcome the fear of fennel as well? i started cautiosly by using in a vegetable soup. it was not bad, though i have to admit that i had difficulties telling it apart from other vegetables. but today i entered the next level: fennel as the main ingredient in a (great!!!) pasta dish.
ingredients:

1 tbsp olive oil
600 g fennel
6 mini tomatoes
3 slices smoked Black Forest ham
50g grated parmesan
2 tbsp toasted pine nuts
2 tbsp lemon juice
1 tsp sugar
salt and black pepper, to taste
200 g pasta of your choice
toast pine nuts in a dry pan. set aside. cut ham in small stripes and fry (without additional grease) until it is crisp. set also aside.
wash and prepare the fennel, cut it up into small pieces. keep fennel green for decoration.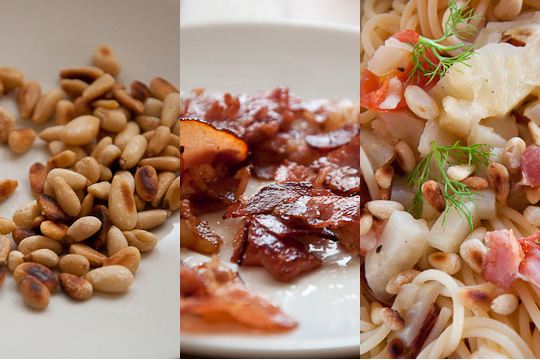 saute fennel in olive oil about 20 minutes until it is tender, add some salted water (in which the pasta will be cooked) as needed. quarter the tomatoes, add and cook for a few minutes. add some more salted water – overall it should be about a ladle full. season with lemon juice, sugar, a generous amount of freshly ground black pepper and maybe some more salt.
meanwhile cook the pasta, then pour it over the sauce. mix and let it stand on the hot stovetop for a few minutes – the pasta should soak up some of the sauce. transfer to a large bowl and mix with grated cheese and ham stripes. top with pine nuts and fennel green.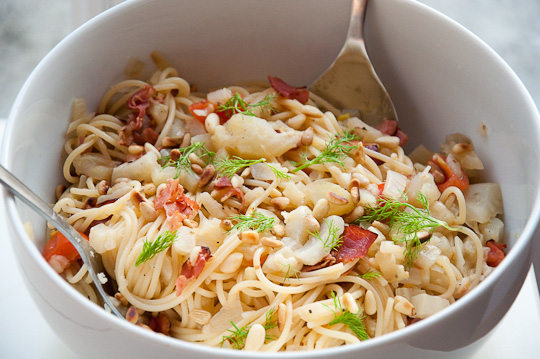 so yes, i think fennel can be added to my list of edible greens.