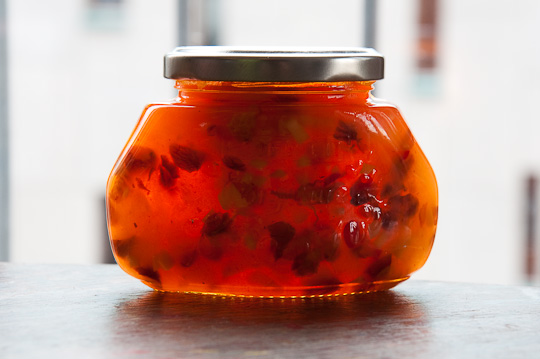 the mango chutney was definitive a highlight of our dinner. i never made chutney before (actually i barely ever tasted it), and so i was at first a bit sceptical how it would turn out. a combination between several internet recipes and again jaffrey's book yielded this:
Ingredients:

1 green mango (about 500g)
100-150ml water
185 ml vinegar
180g brown sugar
1 clove of garlic
1/4 tsp cardamom
4cm ginger
30g chopped raisins
half of a fresh red chili and chili pepper flakes (to taste)
1.5 tsp salt
peel the mango, remove the core and cut in small cubes. dice ginger and garlic. cook these three together in water until the mango is tender. add vinegar, sugar, chilis, cardamom, salt and cook until a little thick (this took quite a while – i think more than one hour). if you want to preserve it, pour into sterilized jars while still hot.
and how did we get the lava in the jar?