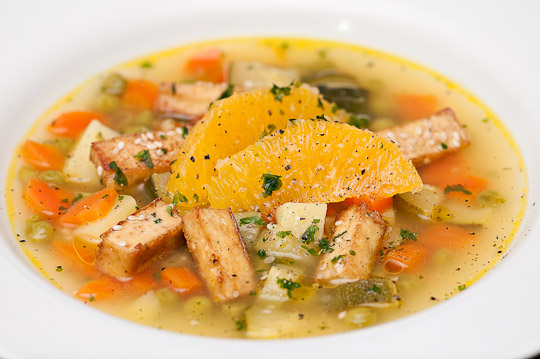 this is an incredibly delicious veggie soup, with a recipe i found here (in german).
first roast a tbsp of anise seed and a finely chopped piece of ginger (3cm +x) in some sun flower oil. add diced vegetables and stew for a few minutes. add 1.25l vegetable stock and simmer at medium heat for about 15 minutes. add 125ml orange juice and simmer again for 5-10 minutes. season with salt and pepper.
served with orange segments, smoked tofu that has been fried with some sesame seeds, chopped parsley, olive oil and freshly ground black pepper.
it's dead easy, and as long as you stick with the anise-ginger-orange part, it works with almost every combination of vegetables. for the soup pictured above we used a rather simple mix of 3 carrots, 3 potatoes, 100g baby peas and 1 zucchini. had an equally great result with carrots, parsnip, sweethart cabbage, peas, potatoes and leek.
more inspiration and photos here.