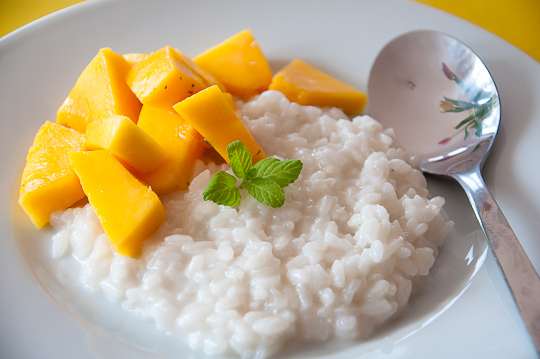 i love rice pudding, but i don't like stirring all the time to prevent the rice from sticking at the bottom of the pan, as it is often the case when you make the rice pudding with milk. here is a stick-free version:
Ingredients:

1 mango
1 tsp runny honey
1 tbsp lemon juice
lemon thyme
200g short-grain rice
1/4 tsp sea salt
1 cinnamon stick
15-20g vanilla sugar (to taste)
one can (400ml) coconut milk
peal and cut the mango, marinate it in honey, lemon juice and a little bit of lemon thyme. cook rice and salt in water for 10 minutes. strain the rice, put it back into the pot. add cinnamon stick, vanilla sugar and coconut milk. cook over low heat for another 10-15 minutes (stirring only occasionally), until the rice reaches your desired consistency/creaminess – i like it if the grain is still a bit firm inside, as in risotto.
we eat this as a quick lunch, or as dessert, it can also add to any brunch buffet. actually, you can eat it at any time of the day. and by the way, can you spot our table decoration?