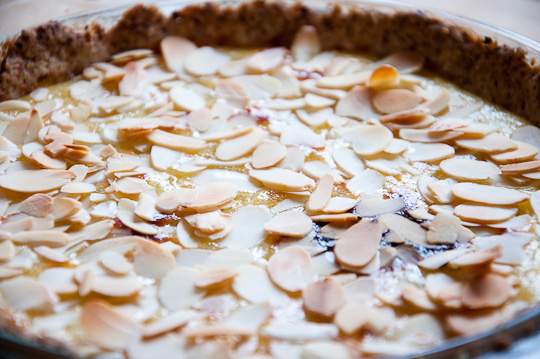 this tarte has almonds in the crust and almonds sprinkled on top of it. i'm undecided if i like the crust better than the last one, since it was a tad dry. but it worked very well with the lemon filling (which was not as tart this time).
Ingredients:

crust


75g flour
25g ground almonds
1 teaspoon sugar
a pinch of salt
40g chilled butter, cut into pieces
1 teaspoon cold water, more if needed

filling

2 eggs
3 Tbsp fresh lemon juice
1 Tbsp freshly grated lemon zest
80g sugar
1 Tbsp butter
20g sliced almonds
icing sugar
mix together flour, almonds, sugar and salt. using a pastry cutter, cut the chilled butter into the flour until only a few pea-sized pieces of butter remain visible. sprinkle water over the mixture and toss until it holds together. press dough over bottom and up sides of a 18cm-diameter baking pan. freeze for about 20 minutes until the crust is firm.
combine eggs and sugar in a heavy saucepan and whisk. mix in lemon juice and zest. whisk over medium-high heat until the mixture becomes thick and almost boils  (about 5-7 minutes). remove from heat and whisk in butter.
preheat oven to 200°C and bake crust for about 15 minutes, until golden. (you may want to do the complete blind-baking thing, but it worked for me also without the beans)
reduce oven temperature to 175°C. spread filling in the crust and sprinkle the almonds over. bake for about 20 minutes, until the almonds start turning golden brown and the filling is set.  sprinkle with icing sugar before serving.
the tarte was made in a 18cm-diameter baking pan (to be more precise: in the 18cm-diameter lid of my glassware pot), and so i'm submitting it to the blog event kleine kuchen (small cakes) by low budget cooking.