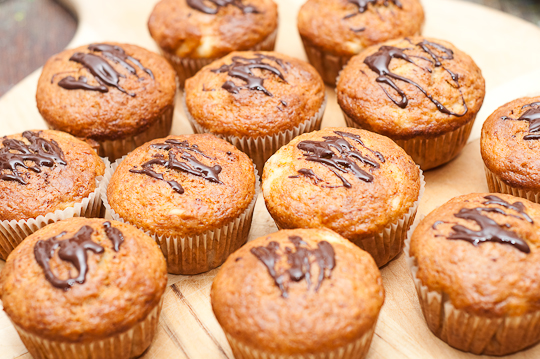 on our son's birthday i wanted to make something to take to the kindergarden, and the constraint was to use no eggs – i don't know if one of the kids is allergic, or if they fear salmonella infections… but banana muffins are a safe bet:
ingredients:

2 ripe bananas
200g flour
50g sliced almonds
a pinch of salt
1/2 tsp baking soda
2 tsp baking powder
80 g sugar (brown)
200ml yoghurt
100ml sun flower oil
in one bowl, mix dry ingredients (except for the sugar). in another bowl, mash bananas, then mix in sugar, oil and yoghurt. stir flour mixture in banana mixture, then stir until the dry ingredients are moistened. spoon the batter into prepared muffin cups and bake at 175° for about 20 minutes.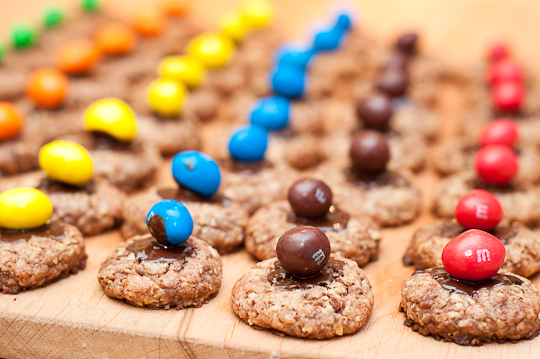 i also sent along  these cookies. i did not particularly like them, since i found them quite dry – which was the reason i decided to bake the muffins in the first place. but i was told that the kids really loved them. on the other hand,  i guess they would  eat just about anything as long as it is topped with m+m's.
while making the cookies i noticed that i may have a light control-freak tendency: i ordered the m+m's  by color to make sure that the colors are evenly distributed on the cookies. and did you know that there are far more in green and brown than in  any other color?