i jumped on the bandwagon and made Anikó's kakaós csigák – hungarian chocolate rolls which were subject of numerous baking sessions (and almost as many enthusiastic praises) in german foodblogs. yeast pastry with chocolate is not common in germany – unfortunately, i have to say after trying these. i think the key to their deliciousness is to douse them with a lot of hot milk and butter during baking time, which makes them super soft and fluffy. i changed the recipe only a tiny little bit by using fresh yeast instead of dry yeast.
Ingredients:

dough

20g fresh yeast
500g flour
50g soft butter
300 ml lukewarm milk
1 egg yolk
4 tsp sugar plus a pinch
1 pinch of salt

filling

4 tsp cocoa powder
8 tsp powdered sugar

to douse
first pour flour, salt and sugar in a large bowl, make a well in the middle and cut butter around it. crumble yeast into the well, add a pinch of sugar and enough milk to cover the yeast. stir a few times, then cover it with a dish towel and let the sponge rise for about 15 minutes.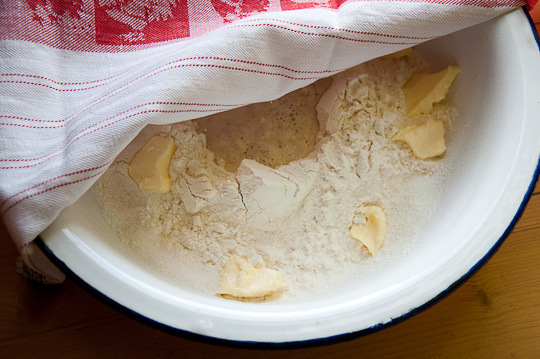 add remaining milk and the egg yolk, then knead the dough for a few minutes until it comes together (it is a bit sticky, you may want to use a bit less milk first, then add by the tablespoon).  cover the dough again and let it rise until the volume is doubled – this took about an hour. in the meantime mix icing sugar and cocoa for the filling. preheat oven to 175°C.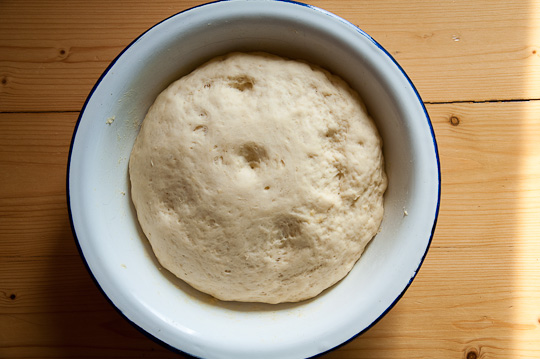 knead again a few times, then roll it out to a large rectangle.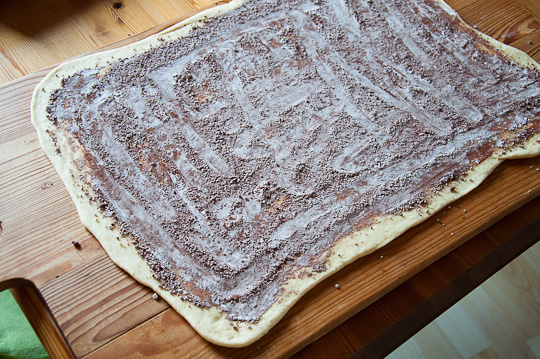 cover with the filling and roll it up, starting from the long edge.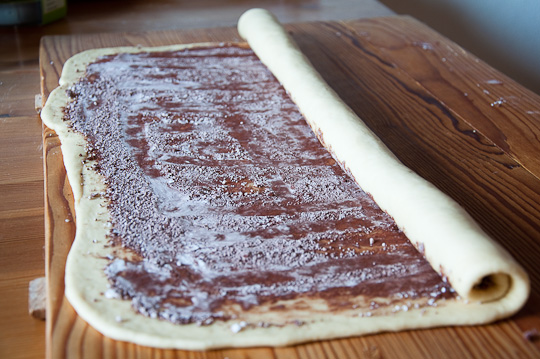 then cut in slices, approximately 3cm wide.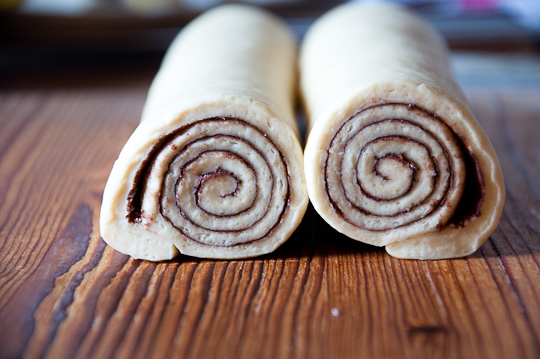 transfer the slices into a baking pan and bake at 175°C for 15 minutes. meanwhile heat the extra 150ml milk and melt the butter in it. pour the mixture over the rolls and bake for another 15 minutes.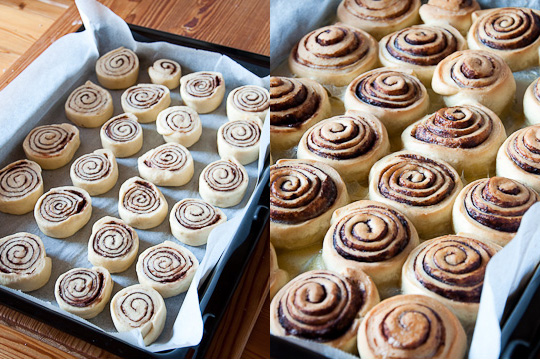 my baking pan was a bit large, ideally they should cuddle up closely together after baking. anyway, they were divine.
ps: the hungarians are really serious about their kakaós csigák – there is an entire web site devoted to testing them: We Love Kakaóscsiga