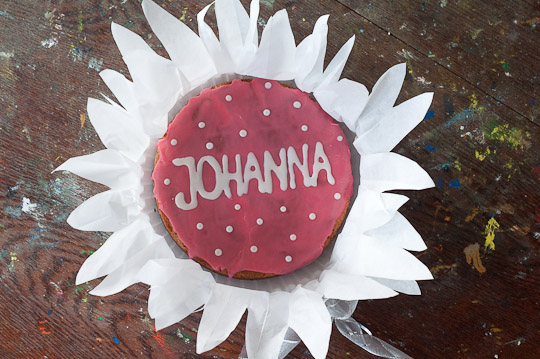 our neighbour's second daughter arrived two nights ago. to welcome her, i made a lemon cake (adapted from chili und ciabatta).
ingredients:

dough:

240 g flour
1 tsp cream of tartar
1/4 tsp salt
170 g butter, at room temperature
zest of one lemon
115 g cream cheese
215 g sugar
3 eggs, yolk and white separated
3 Tbsp lemon juice
one pinch of salt

icing:

70 g icing sugar
lemon juice
red food color, white icing pen
sift flour, cream of tartar and salt into a bowl.
cut butter in small pieces, beat until creamy. add lemon zest and cream cheese, continue beating. add sugar by the tablespoon, continue beating. add the egg yolks, one at a time, beating well after each addition.
add half of the flour mix into the cream, stir a few times. then add lemon juice, stir. add remaining flour, stir again (do not overwork the dough).
beat egg whites with a pinch of salt until stiff. first fold 1/3 of the egg white carefully into the dough, then the remaining 2/3.
bake at 160°C. the original recipe was used for a rectangular form and needed 70 minutes baking time. i made two cakes of 18 and 12 cm diameter, which needed 40 resp. 50 minutes.
in case you're wondering: the wrapping is made of sandwich paper, two paper plates and a bit of silver ribbon.