i saw estonian kringel a while ago at the website things we make and found it so beautiful that i immediately put it on my list of things to make. bread baking day #30 – twisted breads – seemed a good occasion to give it a try. after checking some other recipes for kringel i made a few adaptions to the recipe (namely i left out the raisins since i find they burn to easily when on the outside of a loaf), and i also made only half the amount –  mine is a small kringel.
ingredients:

dough:

20 g fresh yeast
1/2 tbsp sugar
125 ml lukewarm milk
1 egg yolk
25 g butter, melted
a pinch of fine sea salt
300 g flour

filling:

40 g butter, melted
5 tsp sugar
1/2 tsp cinnamon

other:
crumble yeast into a large bowl, add sugar. dissolve yeast in milk and let stand for a few minutes until it bubbles. add egg yolk and melted butter. mix salt and flour, add and knead well. cover the bowl with a dish towel and let it rise for about 1.5 hours.
preheat oven to 200°C. mix sugar and cinnamon. on a floured surface, knead the dough a few more times, then roll it out (about 50 cm x 25 cm). spread 3/4 of melted butter for filling over the dough, then sprinkle with cinnamon-sugar-mix. roll the dough up, starting from the long edge, and cut in half. i left the first centimetres uncut at first, since it makes twisting easier. twist the dough together, with the cutting edges to the outside. shape into a circle and transfer to a baking tray lined with parchment paper. brush with the remaining butter, and sprinkle with slivered almonds (optionally). bake for about 20 minutes, make sure not to burn the edges (you may want to reduce the heat to 180° for the last minutes).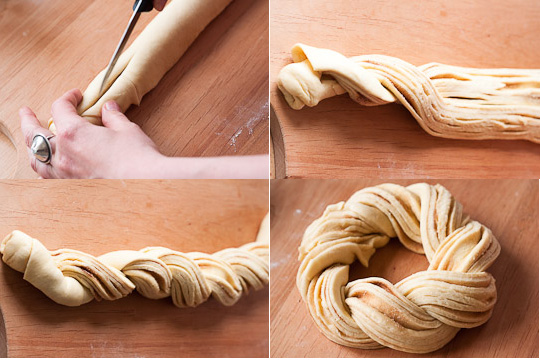 to serve, dust with icing sugar, or top with a sugar glace. or leave it as it is – as we did 🙂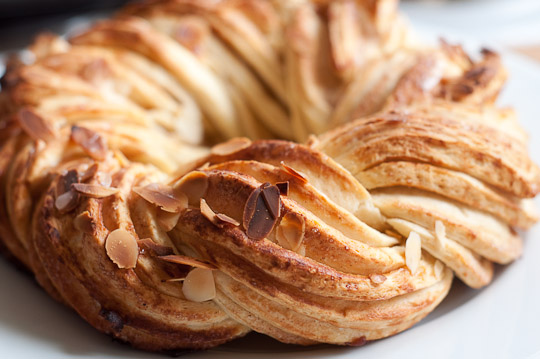 i'm submitting the kringel to bbd #30, hosted at living in the kitchen with puppies.