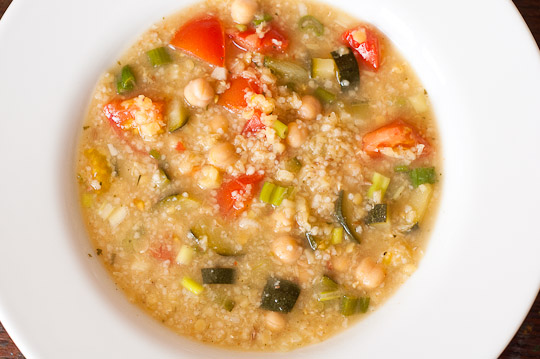 here is another recipe inspired by chili and ciabatta. i made the vegetable soup with courgettes, with minor modifications. being warned that the amount of lentils in the original recipe was not enough to qualify for a lentil soup, i more than doubled the amount. i also added chick peas, baby peas and lemon juice. the soup is flavoured with a paste made of ginger, garlic, dates, chili and some other spices – which i find a very interesting (and tasty) take on seasoning.
ingredients:

paste:

6 dates (cored)
25 g fresh ginger
2 cloves of garlic
1/2 tsp pul biber (chili flakes), more to taste
1/2 tsp ground coriander
1 tsp cumin seeds
1/2 tsp ground cumin seeds
zest of one lemon

soup:

2 zucchini
1 bunch of green onions
15 small tomatoes
160 g red lentils
a can of chick peas (340g)
80 g baby peas (frozen)
60 g couscous
1.6 l vegetable stock (yes, it makes a lot of soup. i cooked for 6 people.)
3 tbsp fresh lemon juice, more to taste
salt

to serve:
cut dates, ginger and garlic in small pieces (i used a mincing knife), then pestle with the remaining spices into a thick paste.
cut zucchini in little pieces, cut spring onions in small rings, quarter tomatoes.
in a large pot, cook the ginger-paste in olive oil for a few minutes on medium heat. add zucchini and cook for a few minutes. add 800 ml vegetable stock, then add red lentils and cook for about five minutes. add remaining vegetable stock, chick peas and baby peas. when the lentils are almost done, add couscous and cook for another five minutes. season with salt. finally add green onions and tomatoes and let it simmer at very low heat for two minutes. season with lemon juice, and more chili flakes to taste.
to serve, sprinkle with a bit olive oil. we had it together with barbari.
note: the soup was quite thick, i wanted it to be more like a stew. if you want it more "soupy" you could leave out the couscous or use less lentils.