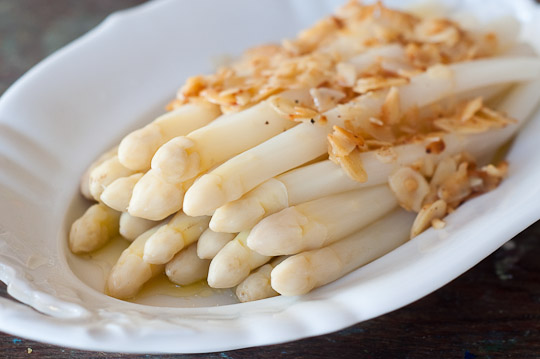 it's still asparagus season! today we had white asparagus for the first time this spring and i learned a great trick to make it even more tasty – cook the asparagus in stock that is made of its trimmings.
ingredients:

1 kg white asparagus
1.5 tsp salt
1.5 tsp sugar
50 g butter
2 tbsp orange juice
3 tbsp slivered almonds
more salt, pepper
wash, trim and peel the asparagus. put asparagus skins plus trimmings in a pot with 1.8 l cold water, add salt and sugar. bring to boil and let it simmer for about 15 minutes. remove skins and trimmings.
put asparagus into the stock, bring to boil then let it simmer for 10-15 minutes (until al dente).
meanwhile toast almonds in a dry pan until they start to turn golden. add butter and orange juice, cook for a few minutes at medium heat (until butter starts to brown). remove from heat, season with pepper and salt.
transfer asparagus on a prewarmed platter,  cover with orange butter.