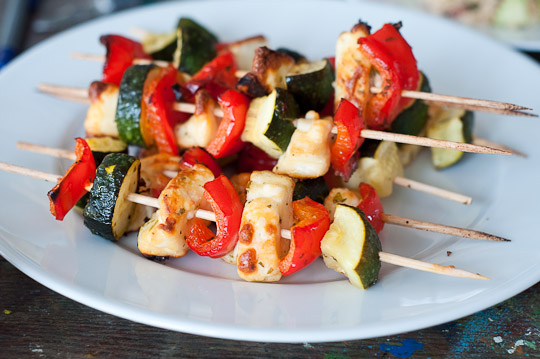 ingredients:

marinade:

juice of one lemon
5 Tbsp olive oil
1 clove of garlic, minced
2 tbsp parsley, minced
1/4 tsp chili flakes
1/4 tsp salt
pepper

other:

1 red bell pepper
1 zucchini
200 g halloumi
mix ingredients for marinade together.
cut bell pepper, zucchini and halloumi in bite size pieces, put in a bowl and cover with marinade. chill in the fridge for 4 hours.
Skewer the vegetables and the halloumi. put on a baking tray and brush with remaining marinade. grill at 200°C for 20-30 minutes. (you may want to reduce to 175°C for the last minutes).
we ate it with a taboulé-style salad and a yoghurt dip.