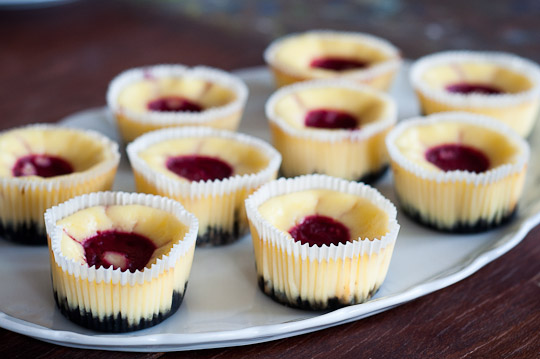 these cheesecakes are a favourite ever since i first made them. very easy (and quick!) – whenever i don't know what to bring to a party i just bring them along. the recipe is adapted from the raspberry swirl cheesecakes at taste.com.au. (but i finally stopped calling them swirl cheesecakes since i never do the swirl part.)
ingredients:

10 finely ground oreo biscuits (including filling. any other biscuit  will do as well, but it really tastes best with oreos)
20g butter, melted
50 g frozen raspberries, thawed
1 tsp icing sugar
375 g cream cheese
145 g sugar
3 eggs
optional: lime zest, lime juice
preheat oven to 160°C. line a muffin pan with paper cases. mix ground oreos and butter, divide mixture among paper cases and press down well. bake for 5 minutes, then remove and cool.
mash the raspberries and strain through a sieve. discard seeds and stir in the icing sugar.
beat cream cheese until light and fluffy, then add sugar slowly, beating until combined. add eggs, one at a time, beating well after each addition. (optionally add lime zest and lime juice – in this case adjust sugar to taste). pour cheese mixture over the biscuit bases, then place drops of the fruit puree on top of the cakes.
bake for 10-15 minutes until set. open oven door and allow cakes to cool completely in switched-off oven.
ps: i'm submitting these cheesecakes to the next round of cucina rapida.
pps: for the blueberry version, just use frozen blueberries instead of raspberry puree.