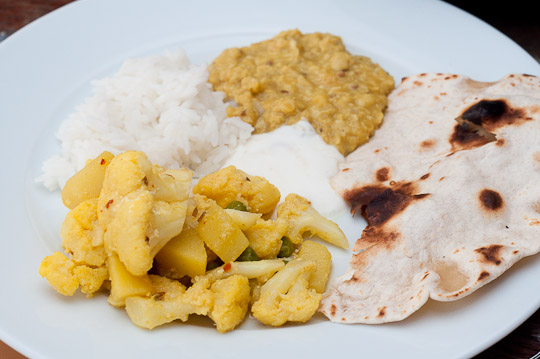 i made this a while ago, the dāl can be seen in the background. it's delicious!
ingredients:

1 tsp ghee
1/2 tsp mustard seeds
1/2 tsp cumin seeds
1/4 tsp ground cardamom
1/4 tsp chili flakes
2 curry leaves
1 onion
3 cm ginger
1 clove of garlic
1/ tsp sugar
125 g red lentils
30 g coconut flakes
100 ml coconut milk
100 ml water
1/4 tsp turmerik
1/4 tsp salt, more to taste
1/4 tsp ground coriander
1/4 tsp garam masala
mince ginger, onion and garlic. in a large pan, melt ghee. add mustard seeds, cumin seeds, cardamom, chili flakes and crumbled curry leaves, heat until the mustard seeds pop. add ginger, onion, garlic and sugar and cook until the onion turns soft. add lentils and coconut flakes, cook for two minutes, stirring continously. add coconut milk, water, and turmerik.  cook until the lentils are done. season with salt, ground coriander and garam masala.